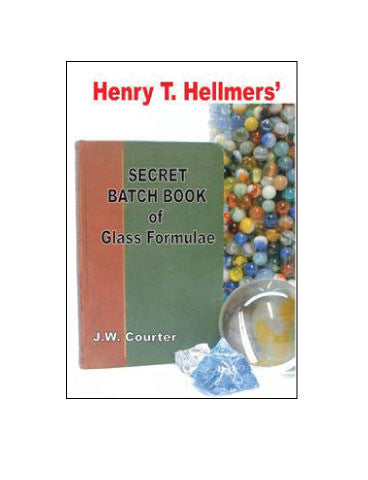 "Henry T. Hellmers' Secret Batch Book of Glass Formulae" by J. W. Courter
"Henry T. Hellmers' Secret Batch Book of Glass Formulae" by J. W. Courter
This is an important reference in glassmaking in America 1921-1965
Some of Mr. Hellmers' history and work experiences are included here. Various
employment history notes when he worked at companies such as: Making marbles at
AKRO Agate Company, Westite, Cambridge Glass Co., Making glass lamps at Aladdin
Industries, Making Optics at Lancaster Lens Co., Owens Corning Fiberglass, Glass
Fibers Co., Pittsburg Corning, Heisey Glass, Erickson Glass, L.J. Houze, Convex Glass Co. etc. His entire handwritten Batch Book including 2373 formulas detailing the coloring of glass batches has been reproduced in sections; Alabaster or Opalescent, Moonstone, Opal, Black or Ebony, Transparent Color, Crystals, Special Use Glasses, etc., each with numerous color formulas!
Over 250 pages 6" X 9" Paperback ISBN: 978-0-9837038-1-5 Price $75 USD